Wednesday, February 25, 2009, 11:41 AM - General
I write this to inform you all about my experiences with the horrible Sony support in Sweden. It all started when the blueray drive in my one year old PS3 (40 Gb) stopped reading blueray discs, games and movies. I then contacted the support in order to try to get it fixed, guarantee or no guarantee. After some phone calls, which by the way cost about 1$ per minute, and a lot of e-mails, I understood that they were not interested in trying to find a solution, and I was told that a simple diagnose would probably cost more than a new console. I know for sure what the problem is, so why not simply exchange the drive or let me buy it as a replacement part so that I could replace it myself?!
The problem with the blueray drive is so very common, that I really think Sony should extend the guarantee period for these units, or at least try to be a little more professional in handling these issues. If you google for this problem you will find hundreds of hits in forums and YouTube also has an insane number of videos where people show you how to try to fix it or exchange it.
This blog article
, that describes my experiences with Sony in more detail, is unfortunately in Swedish, but I guess you can always use a translation tool if you're interested in reading more about it.

1 comment
( 17 views ) |
related link
Wednesday, November 26, 2008, 09:11 AM - CodeRush/Refactor!
A lot of Resharper people are complaining about the lack of CTRL + T (Go to type) feature in CodeRush, but I can now happily announce that a similar feature does exist.
The feature is called QuickNav in CodeRush and it must be manually configured in the DevExpress Options menu. Below the IDE category, you'll find Shortcuts where it's possible to change the key combination for a certain Command or add new ones. In order for the QuickNav to work optimal for both finding types and members to Shortcuts must be added.
I've mapped the "Go to type" feature to "CTRL + T", with
QuickNav
as command and
AllTypes, , AllVisibilities, CurrentSolution
as parameters (note the empty members param).
In order to get the "Go to member" feature, I've mapped it to "CTRL + ." with
QuickNav
as command and
AllTypes, AllMembers, AllVisibilities, CurrentFile
as parameters.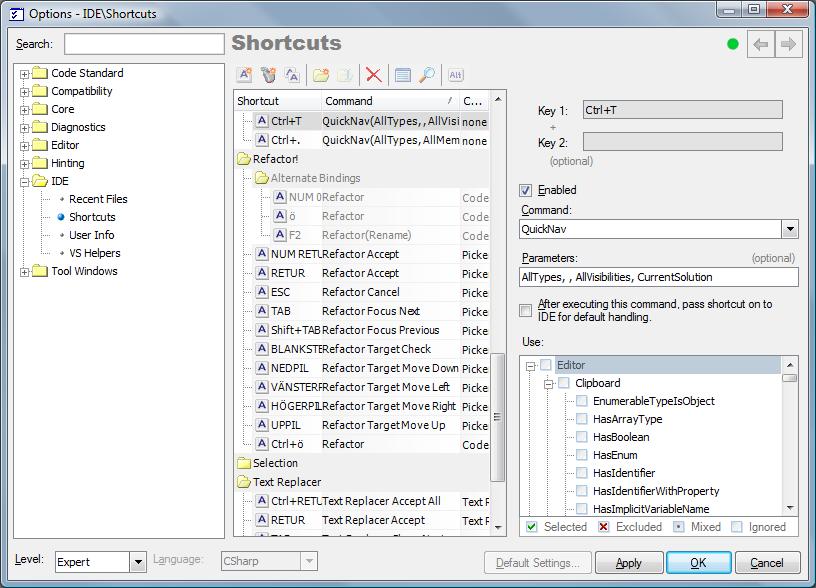 1 comment
( 11 views ) |
related link
Wednesday, November 12, 2008, 08:37 PM - Code Style Enforcer
The new Code Style Enforcer version is 2.2.10.
New Features
• Settings file and default location for custom rules is changed to the user's documents folder. UAC should no longer be an issue.
• Rules are now only enforced for C# and VB projects/documents.
• Possible to activate/deactivate Code Style Enforcer for each individual project in a solution.
Bug Fixes
• Method parameters are now checked for violations again.
• Implicit and explicit cast operators no longer report invalid violations.

7 comments
( 194 views ) |
related link
Friday, September 26, 2008, 01:20 PM - Code Style Enforcer
It's been way to long since I released a new version of Code Style Enforcer, but now I've finally took the time to get back into the code.
A new version can be expected really soon, it will mainly contain some fixes for reported bugs, e.g. invalid violations reported for implicit and explicit cast operators, and similar things.
I'm also going to have a look at the UAC issue and change where settings and rules are stored, since now it happens below the Program Files folder, which is no good.
Stay tuned!

8 comments
( 161 views ) |
related link
Tuesday, September 23, 2008, 04:57 PM - Code Style Enforcer
Today when I got back home from work I saw that Avast updated its virus definitions, so now it doesn't report a virus/worm anymore.
I must say that Avast took this false positive very seriously, since they fixed it within 24 hours.
Happy Enforcing!

3 comments
( 53 views ) |
related link
Back
Next